Save up to 80% on Fairway & Greene, Loudmouth Golf, Bugatchi, Zero restriction and Cutter and Buck.  Take an extra $30% on any order of $100 or more with promo code cybermonday30. Valid November 30, 2015 only. Check out twitter or facebook for more  deals throughout the day.
One of a kind closeouts on your favorite men's apparel brands.
Zero Restriction Outerwear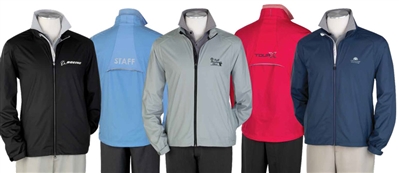 About Bugatchi: Try It, Touch It, Feel The Difference. Bugatchi offers fine apparel for those who want to be noticed without being obvious. The brand offers fashion forward styles in the highest quality fabrics for the Bugatchi lifestyle.
About Zero Restriction: Zero Restriction was founded behind barn doors, in a small outbuilding where authenticity was ingrained from the very beginning. ZR was created by a golfer, for golfers, with the goal of setting new standards for performance apparel using innovative technology and patented features. Zero Restriction sets the standard for system dressing by implementing a base layer, mid layer, and an outer layer: each piece of engineered equipment provides key features like advance waterproofing, breathability, and superior motion. With attention to every detail, #ZRGear offers the highest quality in legitimate all-weather gear. Cutting edge technology and modern design allow for our full line of authentic equipment, with each piece built to enhance freedom of motion.
About CEOgolfshop.com: CEO golf shop specializes in active lifestyle apparel and executive gifts. While most companies carry only a few colors, we offer the entire line of most brands, so when a customer falls in love with a brand, they have the most choices. Many people ask if we have our own inventory, and yes, we do. We also ship direct from the factory for custom items to ensure product quality and provide full manufacturer warranty.  See also, CEOpromos.com.