Bugatchi Uomo shirts from the 2013 men's sportswear collection. Soft, linen shirts for you or for an executive or incentive promotional gift with company logo embroidered. Classic casual shirt in black, iris, pink, sand, turquioise, lemon, sky, white in sizes to 3XL.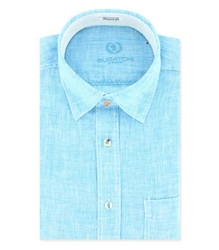 Turquoise, shown above.
NS5000L94S
100% LINEN
Shaped Fit
L94S – L/S – REGULAR SMALL COLLAR ONE POCKET CONTRAST
Sizes small to 3XL
Solid, tropical colors: black, iris, pink, sand, turquioise, lemon, sky, white.
Retail $129
Purchase online: Bugatchi Uomo long sleeve linen shirt
About Bugatchi Uomo: Bugatchi Uomo is a manufacturer of world-class sportswear. Bugatchi Uomo offers fine men's wear for those who want to be noticed without being obvious. They combine fashion-forward styles with high quality and feel. Bugatchi Uomo's goal is to help their customers cultivate an individual sense of style.
About CEOgolfshop.com
CEOgolfshop specializes in volume orders for active lifestyle apparel and executive gifts. While most companies carry only a few colors, CEOgolfshop offers the entire line of each brand, so when a customer falls in love with a brand, they have the most choices.  CEOgolfshop.com is an authorized online retailer for the entire Bugatchi Uomo line.  The privately held company currently sells throughout North America and seven countries, either directly or through its affiliates to executives, tournament directors, marketing directors, and consumers.
Mens linen shirts long sleeve white
Mens linen shirts long sleeve black
Mens linen shirts long sleeve blue