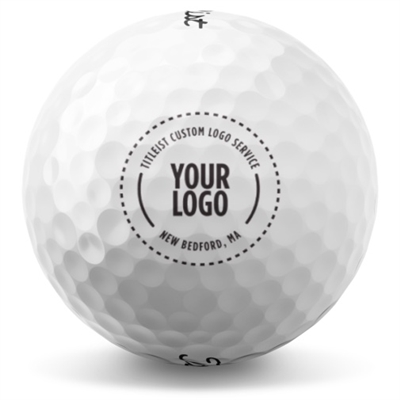 Looking for custom logo golf balls? Here's four secrets to reduced discount pricing for your tournament, event, and gift needs.
Preorder in the fall for the next year delivery. Advance ordering can shave dollars off every dozen, though larger minimums apply. For extra large orders, balls can be shipped to multiple locations or shipped on multiple delivery dates.
Ask for tournament pricing.  The tournament date and event name are imprinted on the opposite side of logo, for reduced pricing.
High school pricing.  Golf ball manufacturers want to help grow the game of golf, and reducing golf ball prices is one way of giving back.
Volume logo golf ball ordering. Price breaks are at 24, 48, 120, 240, and 500 dozen.
There's two types of custom logo golf balls: those that are made at the golf ball manufacturer, and those that are made at a third party promotional products service company. We cannot attest to any specific companies, but users have reported quality issues with the ink coming off cheap third party suppliers with as little as one hit. One way to potentially distinguish is the minimum order. For logo balls only, the big brand manufacturers have a 12 dozen minimum, while 3rd parties often offer a 6 dozen minimum. CEOgolfshop only sells golf balls custom made at the manufacturer imprinting factory.
How can I buy from CEOgolfshop?
Don't see exactly what you need? Contact CEOgolfshop for additional choices.
About CEOgolfshop.com:  Golf balls from all the major manufacturers are available with custom logo and optional custom packaging.  Our brands include Titleist, Bridgestone, Callaway, Srixon, Nike, Precept, Pinnacle, Wilson, TaylorMade, Hogan and Noodle.