Hot Dog pants by Loudmouth Golf in stock at CEO golf shop. The hot dog pattern of slimming vertical stripes in varying colors and widths is also offered in Men's jeans, men's shorts,  women's skorts, womens mini shorts, and a ball mark and green repair tool kit. This is a great pattern if you are trying to create matching team outfits. Check out our buyers guide to men's and women's matching Loudmouth Golf outfits.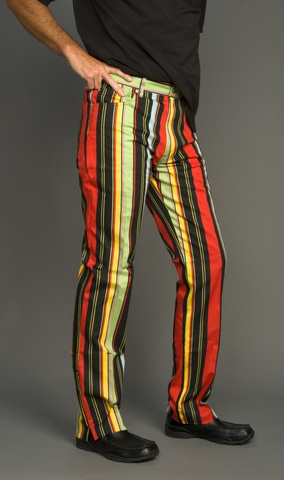 Men's pants sizes Waist 32″, 34″, 36″, 38″, 40′ and 42″.  Length 30″, 32″, 34″.
Big and Tall –  Waist 44″, 46″, 48″. Length 37″ unfinished.
Unlike many others selling products online, we don't just drop ship product, we actually have our own inventory. As an exclusive authorized LoudMouth Golf partner, we have OUR OWN STOCK, plus we share the same inventory as the manufacturer, providing the widest selection available.