Bugatchi modal rayon shirts are a best seller year after year. They top the mens favorite shirts list due to the way they feel, they way they drape, and they last forever. It's not uncommon for us to get calls from customers who bought from us 5 years ago saying it's finally time to replace their favorite ribbed shirt.
The two most popular ribbed shirts are crew neck and 3 button polo. The mock neck was discontinued a few years ago. Short sleeve shirts in in stock in all colors. Long sleeve shirts were not manufactured this season so we have just a few left. Below are links to the various shirts to buy online.
Fabric 65% modal rayon, 35% polyester (polynosic)
Contemporary fit.
Short open sleeve
Colors:  Sand, classic blue, coral, jade, lavender, ocean, platinum, robusta, lemon, midnight, gardenia, black, white
Sizes: medium, large, x-large, 2xl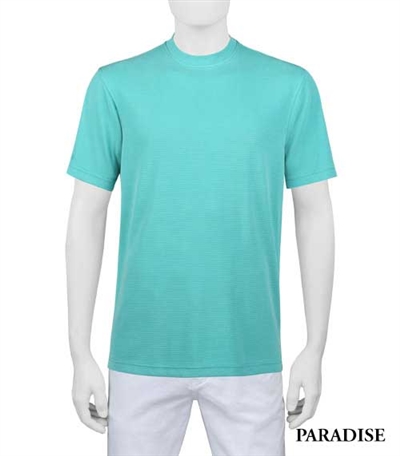 Short sleeve modal rayon crew neck shirt by Bugatchi Uomo.
Short sleeve modal rayon polo shirt by Bugatchi Uomo.
Long sleeve modal rayon crew neck shirt by Bugatchi Uomo.
We rarely offer any other brands in this fabric because time has proven the others do not have the durability or lasting softness of the Bugatchi Uomo shirts.