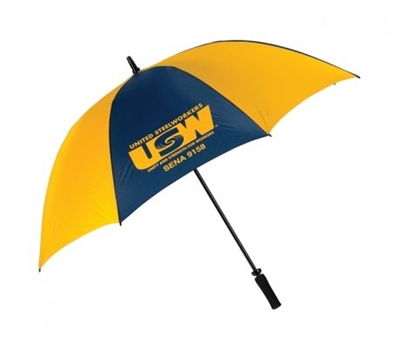 Made in USA Promotional Golf Umbrella. High quality, no frills umbrella that you can have custom made with any color panels and your logo.
Umbrella manufacturing in America has all but died out, however, after yet another opportunity arose, we were determined to find a source. CEOgolfshop now offers two  Made in USA umbrella's, a golf umbrella, and a fashion umbrella.
For when you absolutely positively need an American made umbrella, these are the two options! It's a good quality, no frills umbrella that will have the unite union made label inside. We can manufacture with a wide array of color panel options and logo placements.
Golf umbrella details:
Fiberglass shaft and fiberglass ribs.
Windproof feature for extra durability in high winds.
Manual open
Choice of handles; black foam.
Cover sheath included
Unite label sewn into product
Nylon fabric- many color panel choices, in any combination. Send your PMS for closest match.
Any color logo imprinting
Minimum order 50
Where to buy: CEOgolfshop made in USA 62 golf umbrella.  Always free shipping and no set up fee for one color, one location imprinting with minimum order.